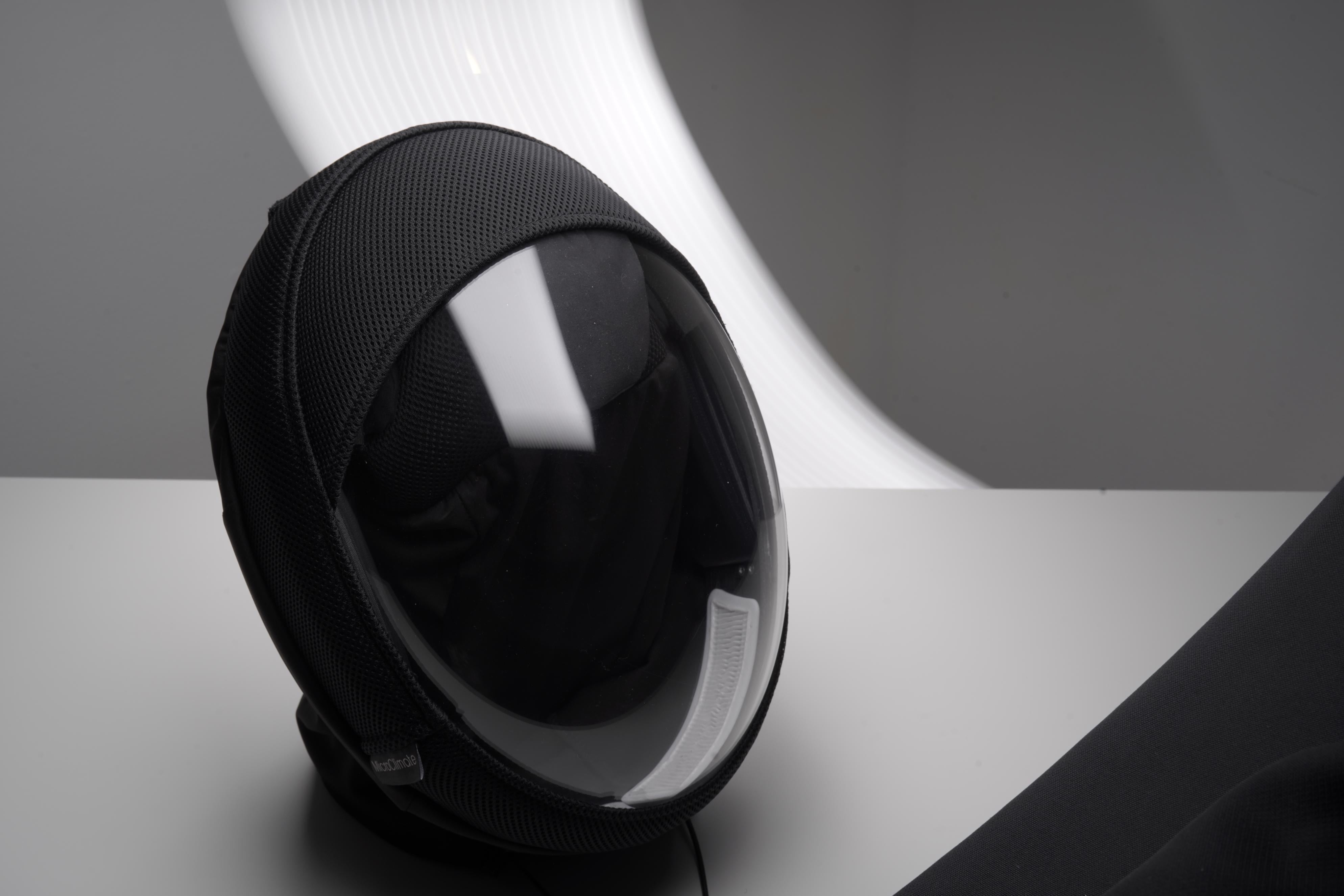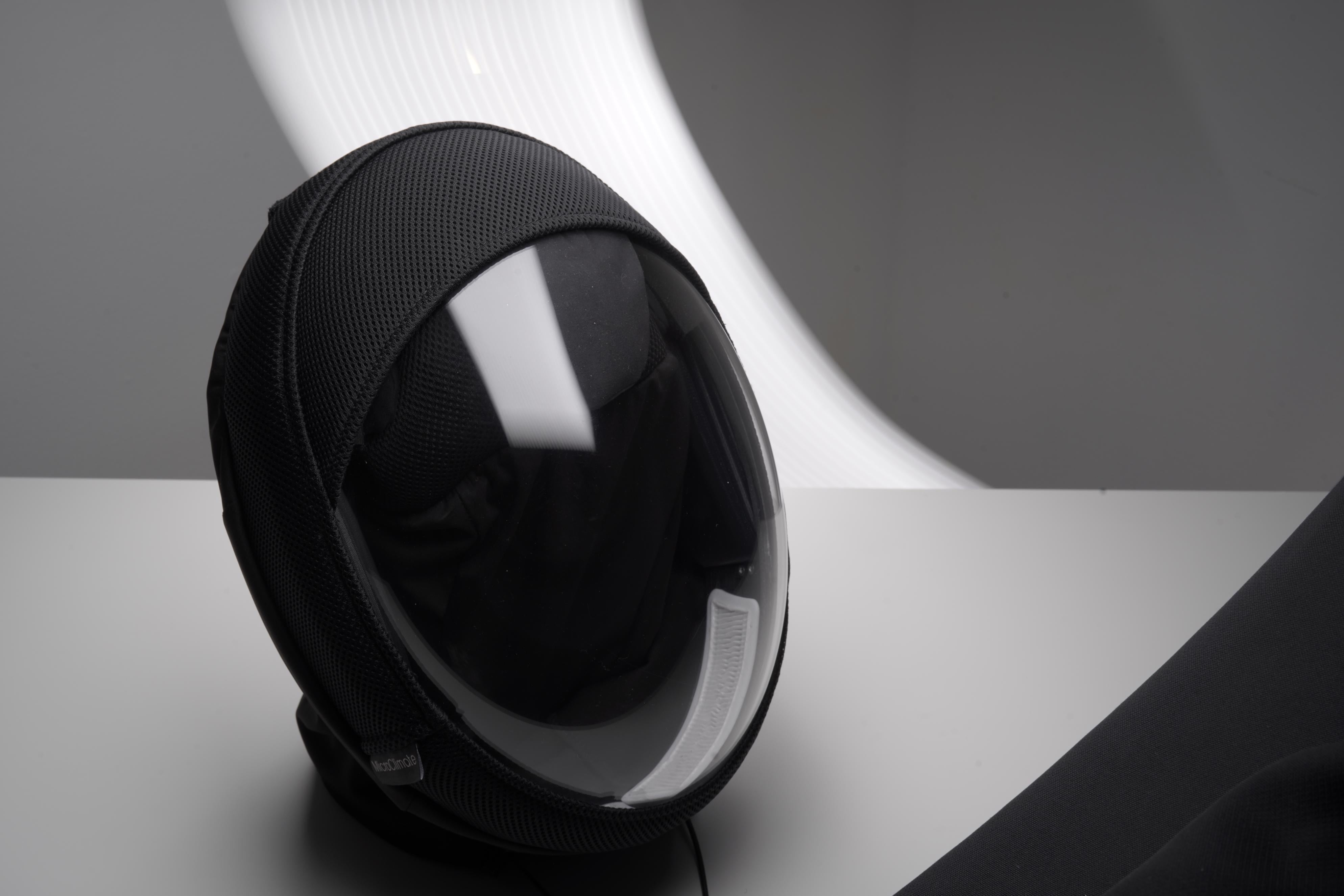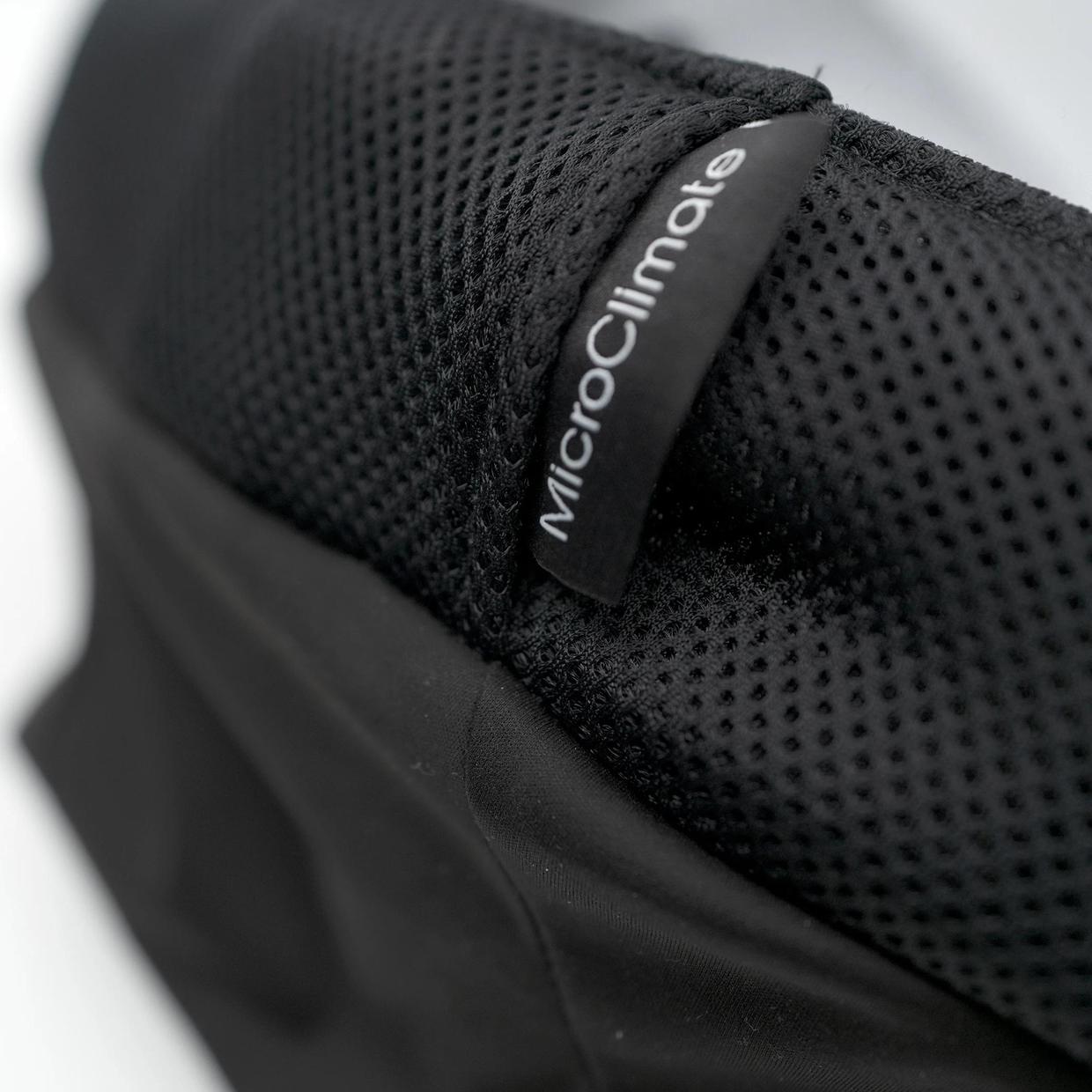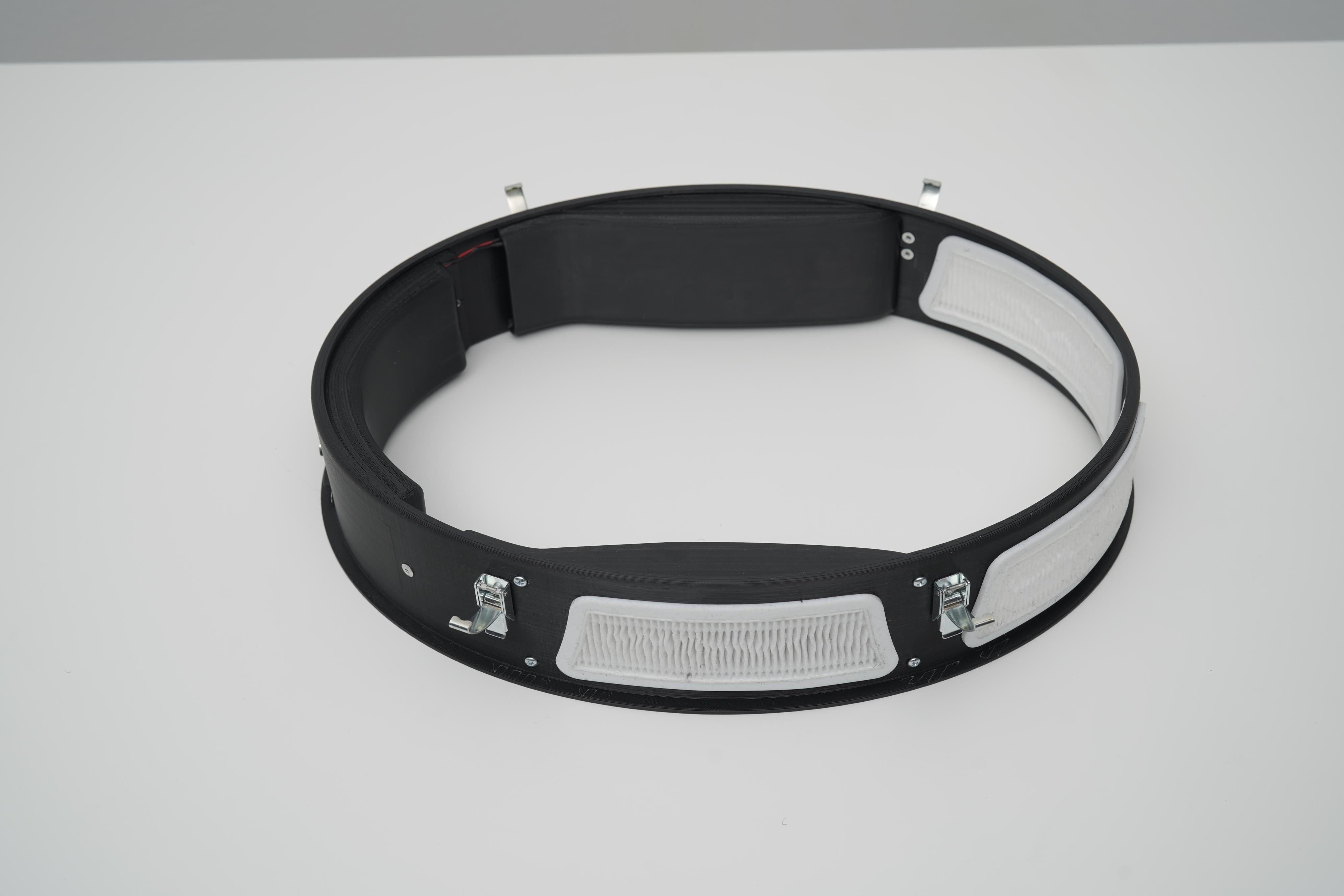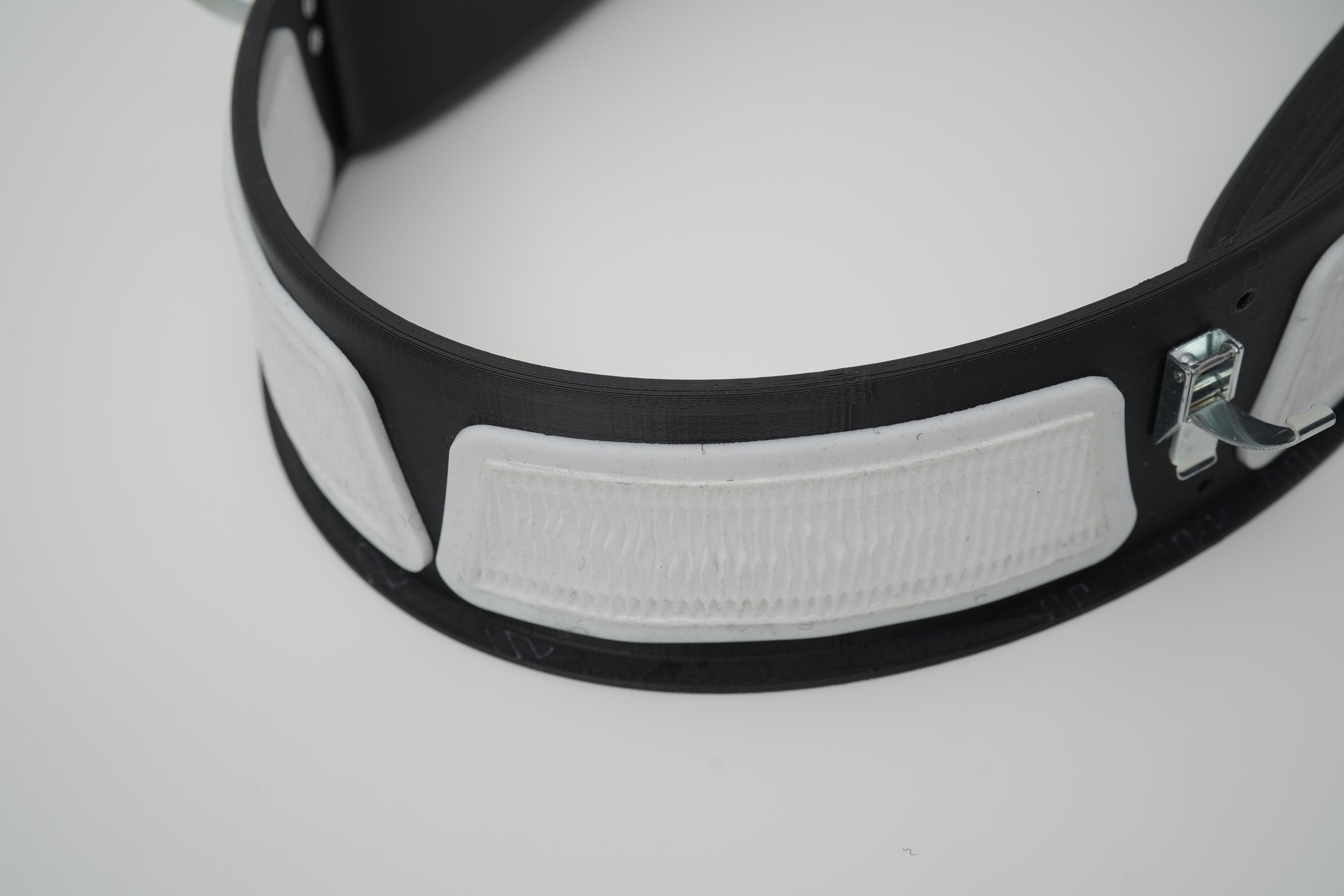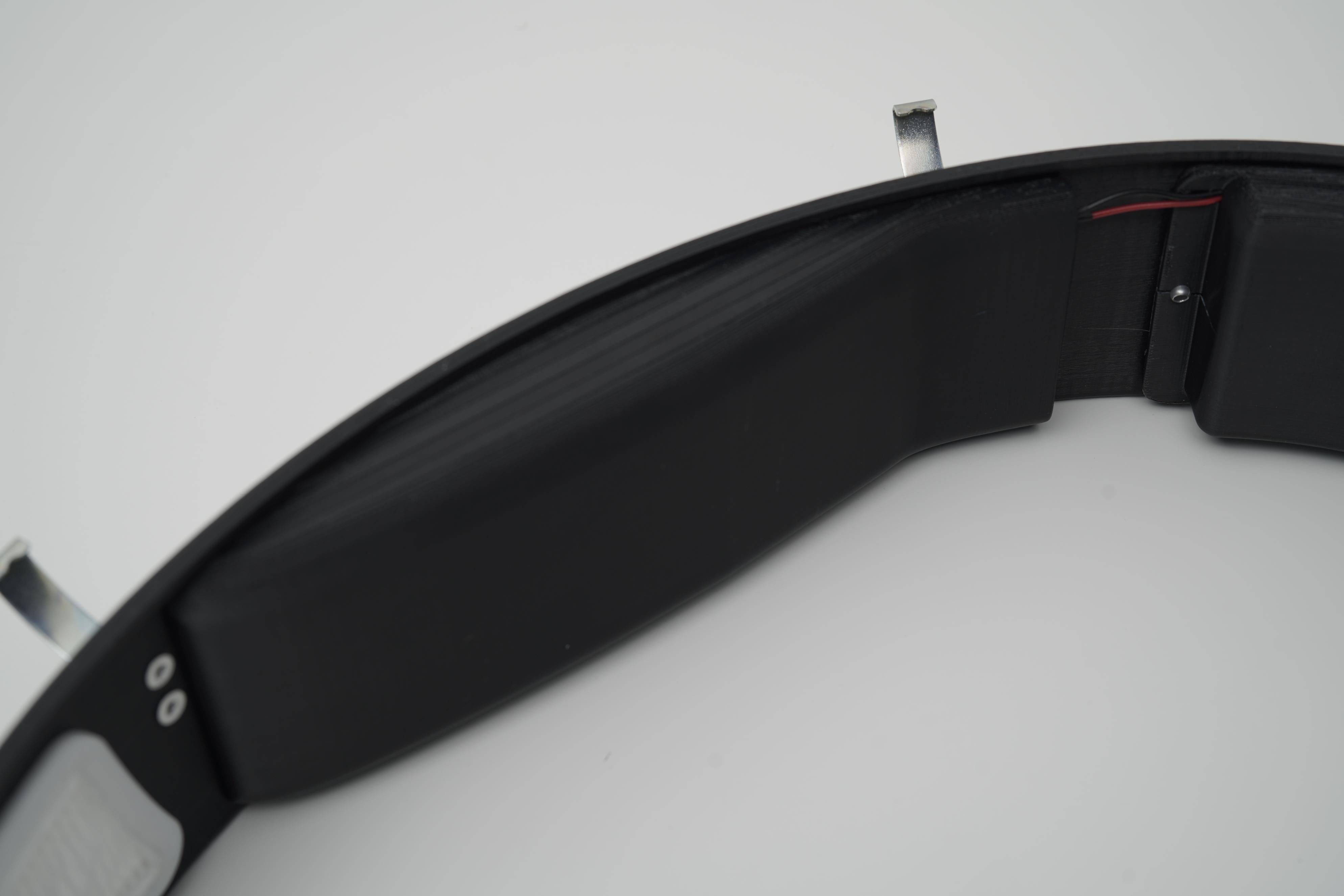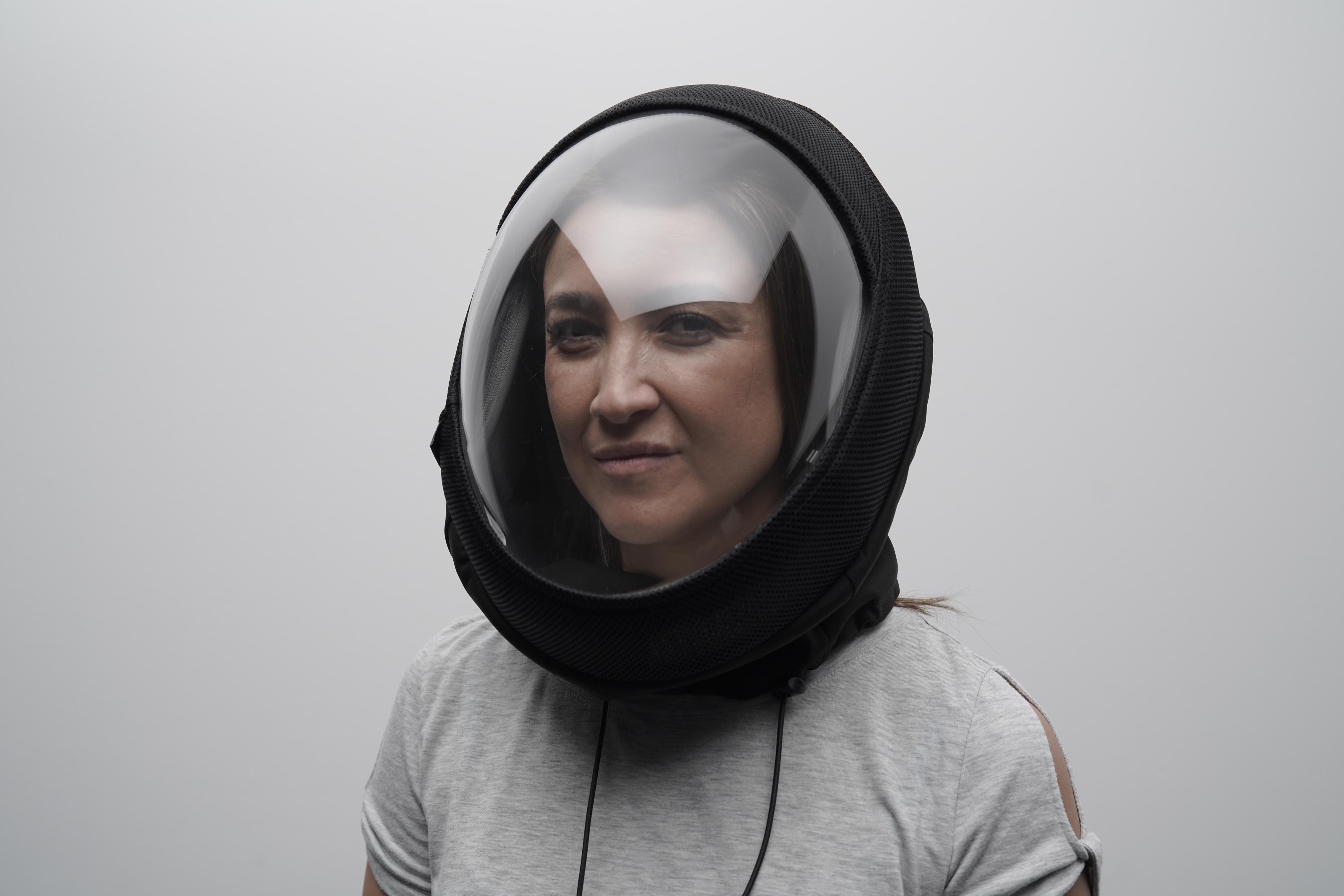 With Replaceable Impact-Resistant Dome
$299
AIR2 is sold out and discontinued. AIR3 will launch later this year and will replace AIR2. We anticipate sales of AIR3 will begin Summer or Fall of 2023.  Filters and other accessories will remain available for AIR1 and AIR2 for the expected lifecycle of the respective models.   
AIR2 by MicroClimate is a full-faced, fully-filtered super mask that seals around the neck and filters both incoming and outgoing air. AIR2 uses four HEPA filters around the frame of the mask to filter at least 96% of 0.30 particles of incoming and outgoing air.
PRODUCT DETAILS
- 4 HEPA filters scrub incoming and outgoing air.
- 1 Removable washable fabric scarf creates neck seal; beard/facial hair compatible
- 8 to 20 hours of battery life
- 2 whisper-quiet, tri-speed fans
- Full-faced, fog-resistant, impact-resistant, replaceable, acrylic dome
- Two-sizes of cushion liners included
- 6 ft. USB-C cable with magnetic adapters included for charging
- Microfiber cloth for cleaning
- Carrying case
- Speech and hearing are both improved organically by design. Also works well with AirPods and Live Listen feature on iOS
- Weighs approximately 2 lbs.
IMPORTANT INFORMATION
Shipping to the contiguous U.S.
Produced in the USA.
AIR2 is in stock and shipping on demand.  
AIR and AIR2 do not filter vapors, odors, or gases. Not to be used in a low oxygen environment.
$49-$79

- set of four
What are your filters composed of and how do they work?
AIR filters use a blown Polypropylene and PET to achieve HEPA filtration.

How long do the filters last?
3-4 months with regular use.

How difficult is it to replace the filters?
Easy, no tools needed. Snap into place around the inside rim of the mask.

Important Information:
AIR filters are only compatible with AIR Super Mask.

AIR2 filters are only compatible with AIR2 Super Mask.

Not returnable if packaging has been opened.


Replacement Impact-Resistant Visor
$79

- (Visor Only)
AIR2 Impact Resistant Visor. Does not include head pads, but does include affixed hook and loop attachment points.

Important Information:
AIR2 visors are only compatible with AIR2 Super Mask.

Not returnable if packaging has been opened.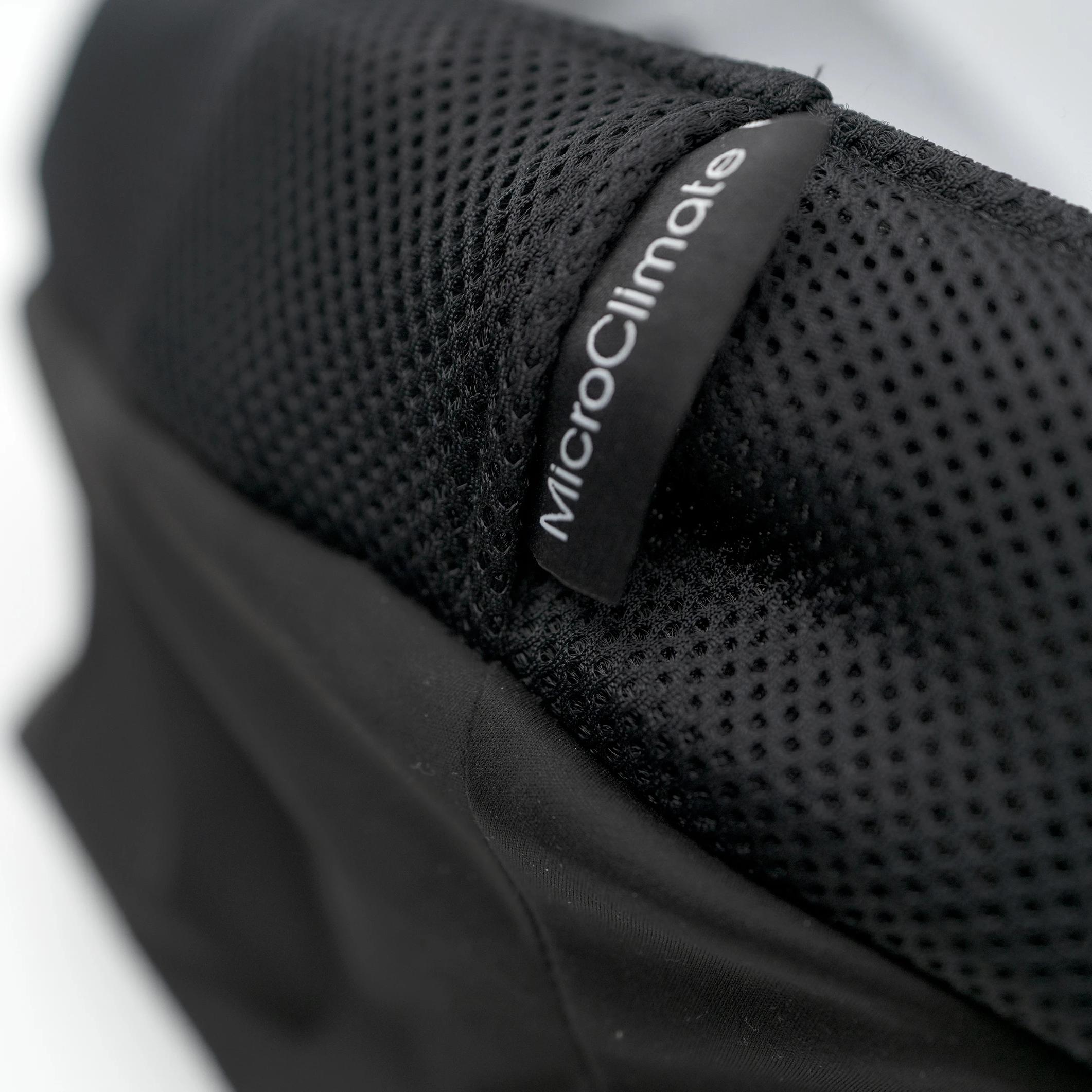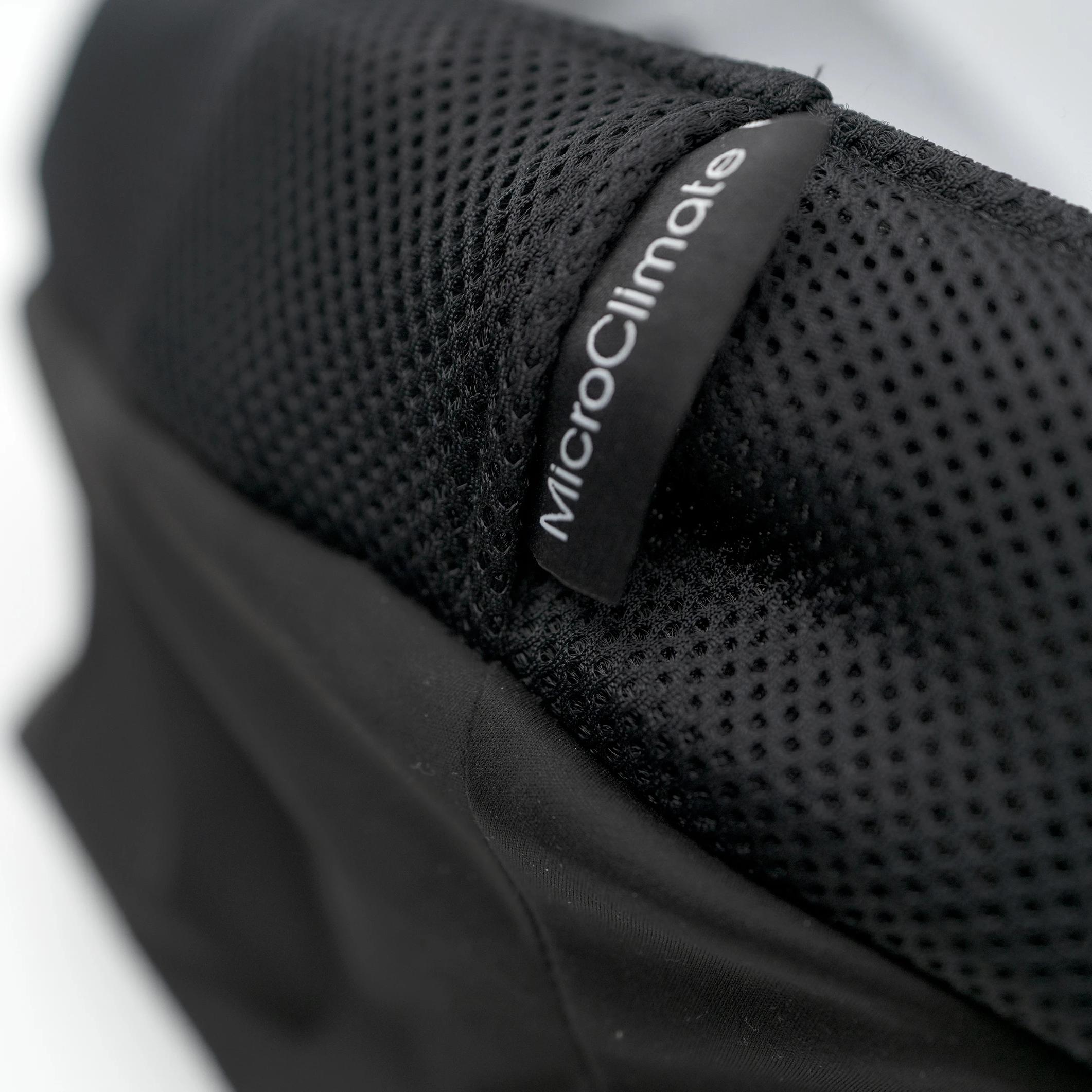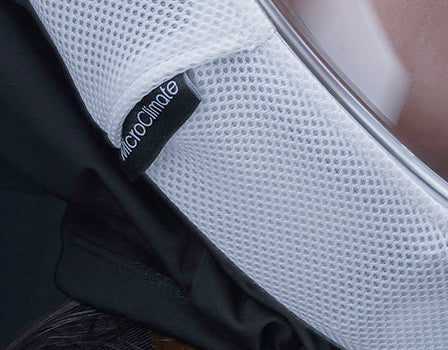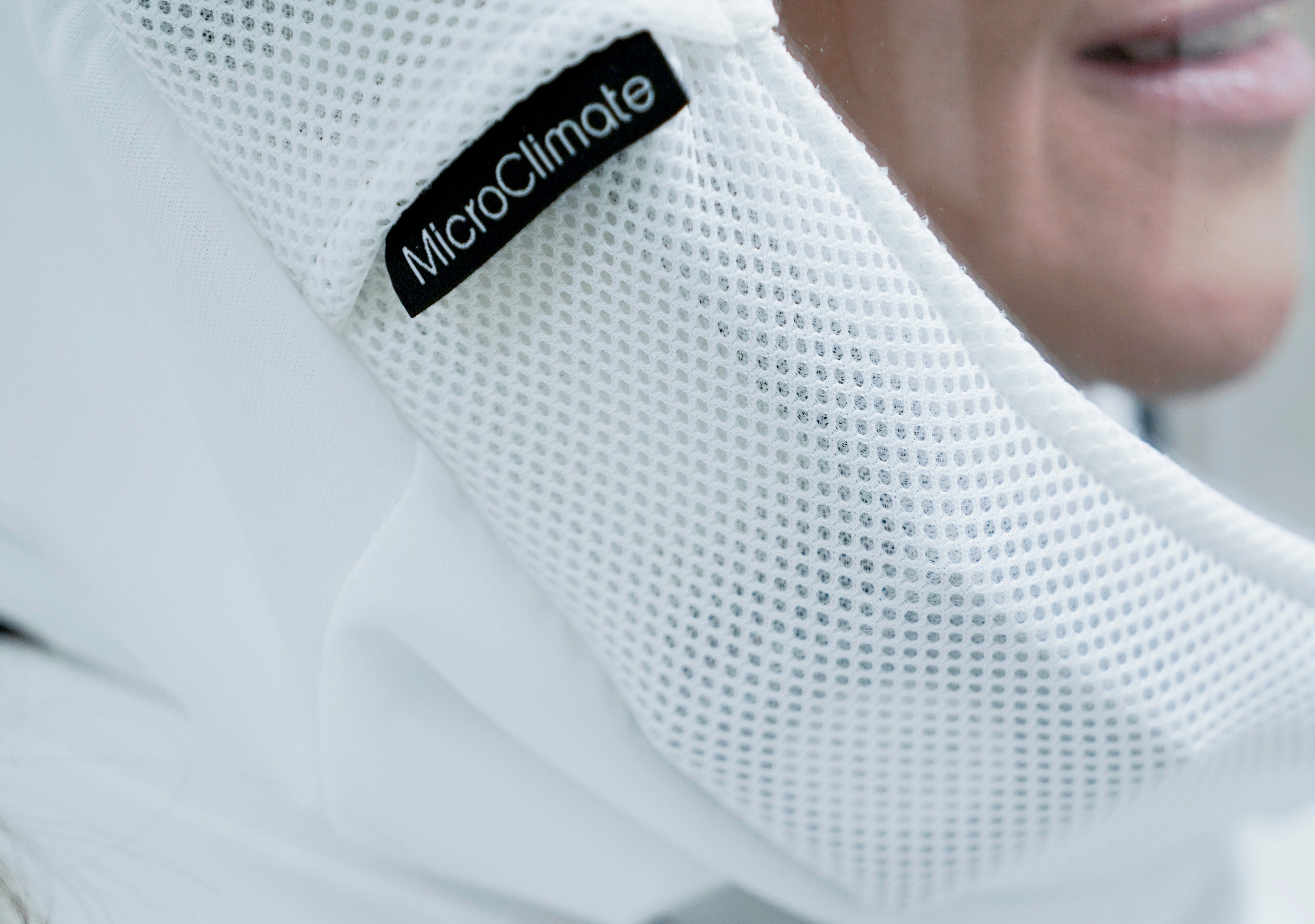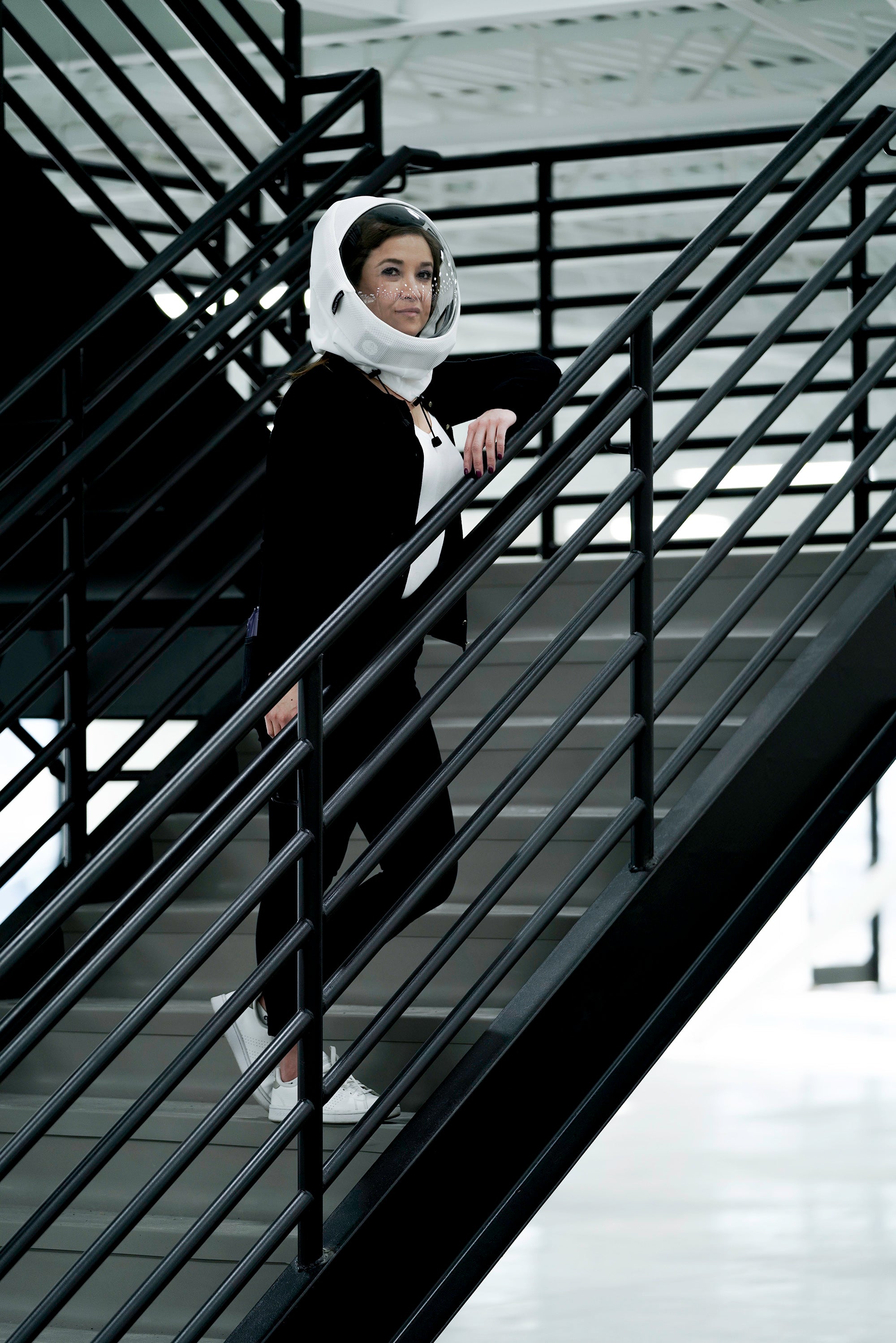 $49 to $59 Verify Compatibility
Impermeable Fabric Accumulator
Air Scarves come in Black (included with AIR Super Mask), White and Panda (black/White).

Air Scarves are machine washable, but should be air dried. Additional scarves should be considered to have on hand to enable exchanges between washings.

Important Information:
AIR Scarf is only compatible With AIR Super Mask.

AIR2 is only compatible With AIR2 Super Mask
Not returnable if packaging has been opened.

$15
A Little Strap. A whole lot of Difference
All new AIR and Air2 masks come with one Active Band, however, should you lose yours you may order your replacement here:

Now you can be more active while wearing your AIR without worrying about it shifting. The AIR Active Band easily attaches to the Velcro on your existing side pads to support the back of your head and keep your AIR comfortably in place.

Important Information:
Compatible with AIR/AIR2.

Not returnable if packaging has been opened.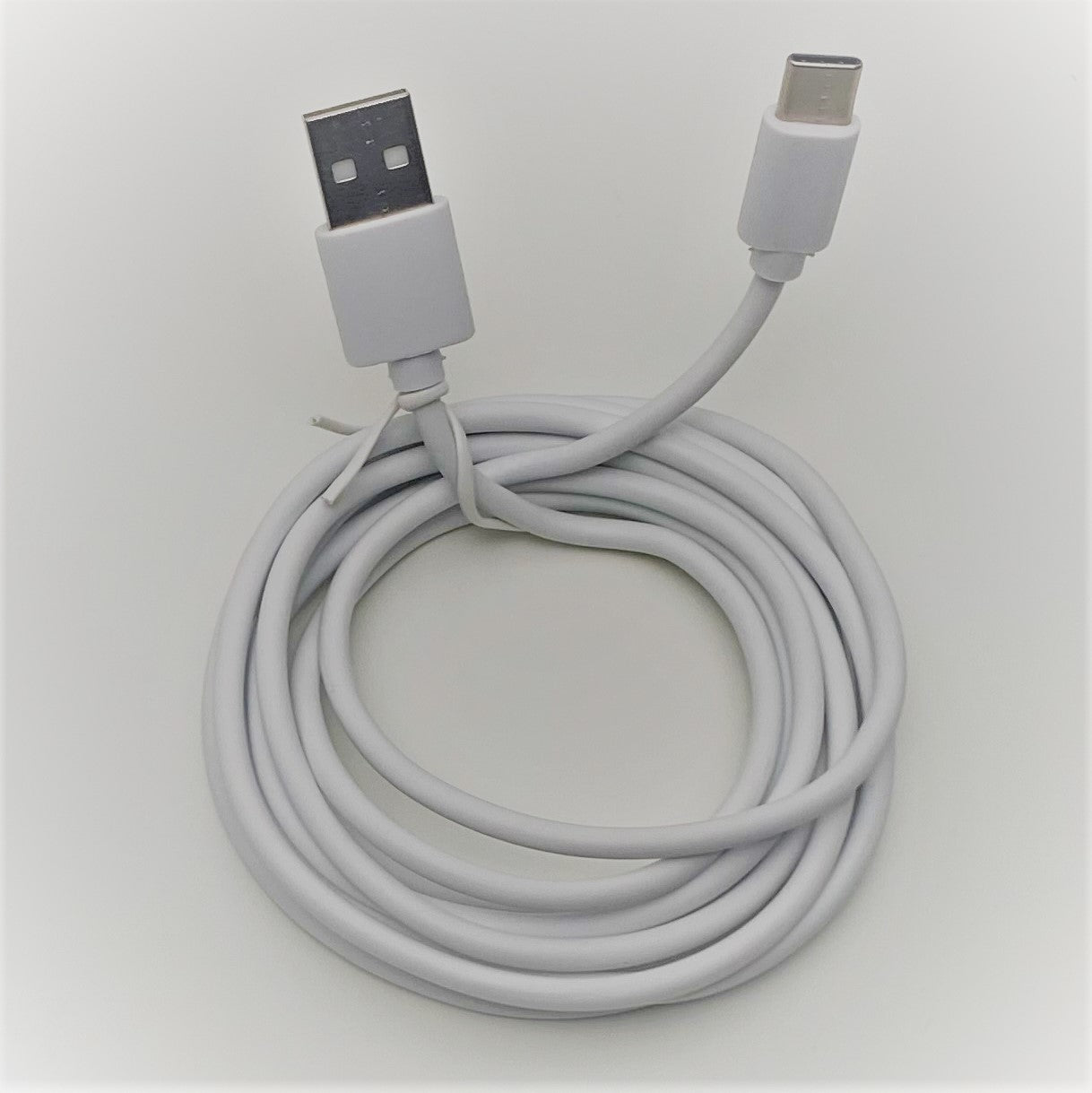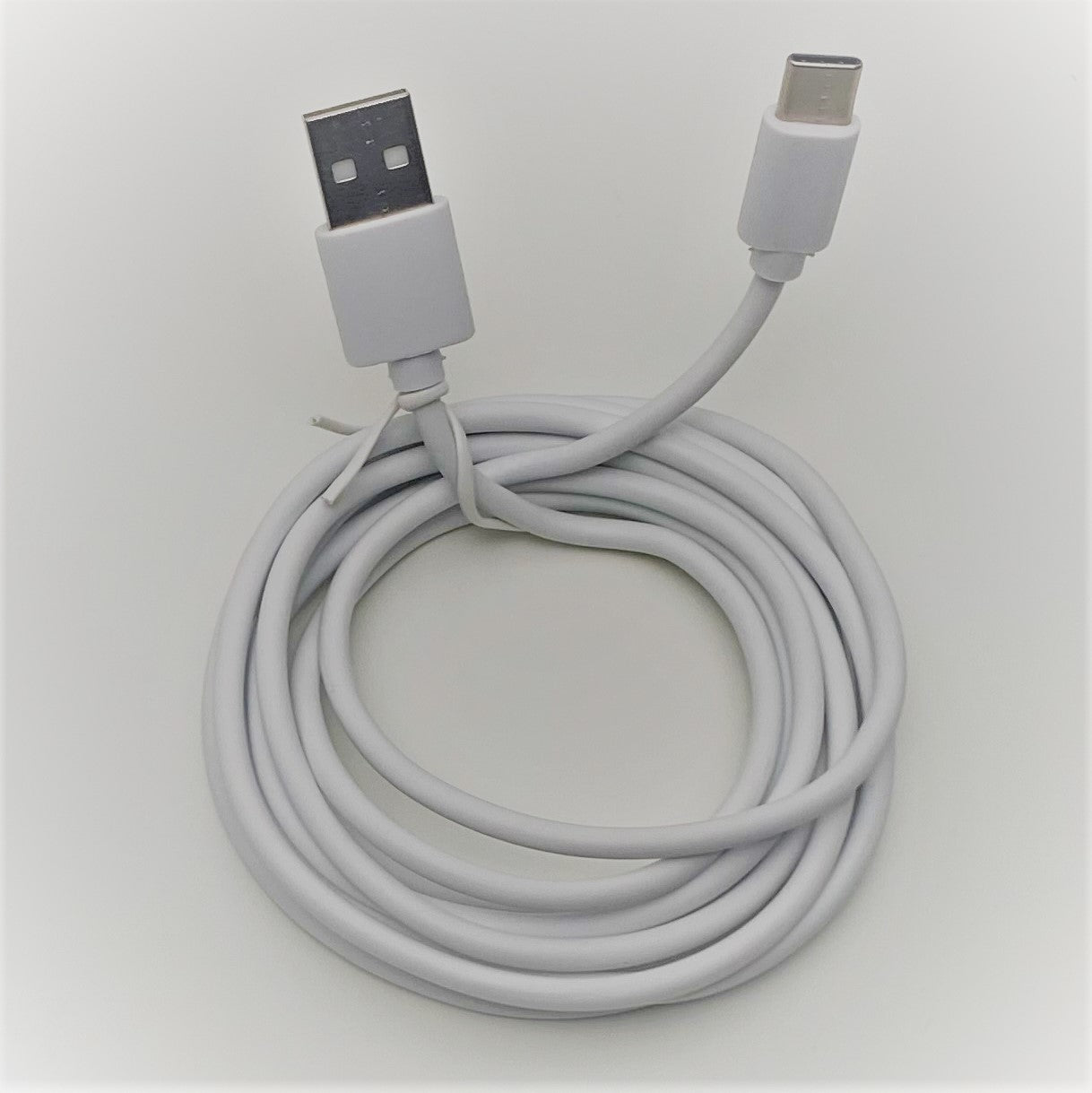 USB-C replacement Charging Cords
$15.99 to $19.99
NECK SEAL
MicroClimate Air has an innovative sealing method. This patent pending technology is robust and comfortable. It seals at the neck, like a shirt collar. The convex shape of the neck allows a flexible fabric to achieve an airtight seal. An elastic drawstring helps ensure the seal stays in place.
FABRIC AND ACCUMULATOR



MicroClimate scarves not only seal, but also helps manage quick exhale events, like coughs. When a cough event occurs, the fabric is able to bulge. This accumulator affect allows these sudden burst events to be fully contained. The fabric scarf may be removed for machine washing and should be air dried.
FILTRATION



Air and Air2 feature four pleated HEPA filters. These filters enable at least 96% for Air/Air2 of 0.3 micron particles to be filtered of the incoming and outgoing air. Air has negative pressure with one filter is used for exhaust, while the other three are used for inlet. Air2 is positive pressure with two filters used for incoming and two filters used for outgoing air. The filters may easily be removed and replaced by the user. The pleated design allows for about 200 square inches of filter area.
BATTERIES



Two Lithium Polymer batteries are located near the back of Air, helping balance the device. 28 Whr of capacity allow Air to run for more than 8-12 hours on a charge depending on the fan speed. Batteries comply with FAA 49 CFR 175.10 and have safety circuits onboard the cells to protect against over voltage, overcurrent, and keep the battery from being discharged too low. A USB-C port is used for charging the batteries.
DUAL & TRI SPEED FANS



Exhaled breath from humans is hot and humid, 90 deg F and 85 % humidity. MicroClimate Air2 utilizes three dial speed fans to expel air at a rate up to 190 lpm. This is well above resting respiration rates of 30 lpm, so the air temperature and humidity are nearly the same as the surroundings. This cooler dry air keeps the acrylic dome from fogging up.

High flow rates, if not managed correctly, lead to dry eyes and mouth. High velocities can also make a lot of wind noise. MicroClimate Air utilize over 200 square inches of filter, keeping air velocity very slow. No breeze is felt, helping the device further disappear into the background.

Note: Maximum respiration while exercising is around 350 lpm, so MicroClimate Air is not properly equipped ventilate a person under these conditions.
MicroClimate Air and Air2 does not touch the face. It's approximate 2 lbs. is supported by padding on top of the head. The seal touches the neck, like a shirt collar.
IMPACT RESISTANT ACRYLIC DOME



The transparent Acrylic dome allows the wearer full peripheral vision. This helps the device quickly fade into the background after being put on. Air2 benefits from a replaceable dome, while Air has a fixed dome.
MICROFIBER CLOTH



Air comes with a Microfiber cloth for cleaning the dome.
CARRYING CASE



Air comes with a carrying case. The case has a separate pocket for the charging cord, microfiber cloth, etc.